Enhance your outdoor looks and living.
---
Here at Watsons Landscaping we excel at hardscaping! We will ensure that you have a sturdy wall, a functional walkway or level patio that lasts for many, many years. We can provide you with new patio installation along with repairing old patios to their former glory. Like your patio or garden but feel it could use something more? Make them come alive with the beauty of a retaining wall. All our trained professionals are ready to help and handle your landscaping wishes.
Get the property of your dreams.
---
At Watson's Landscaping, we strive to make your landscape dreams come true in Troy Michigan. We have the experience and the knowledge to provide high quality service, design, and maintenance for your landscape. We can design gardens, rock beds, plant trees and shrubs, plant grass, and work with a blank slate with a new construction home. What other landscaping maintenance services does Watson Landscaping implement? We offer Spring and Fall clean-ups to kick off your summer / winter the right way. We are trained in sprinkler startups along with winterizing existing ones. Our company offers power raking for your lawn, removing years of built up thatch that could be suffocating your lawn from water, air and nutrients. With core aeration, which pulls plugs from your lawn allowing nutrients to penetrate the soil, you can ensure a healthy lawn for months to come. Watson's Landscaping also provides lawn rolling for loose soil or bumpy lawns, all types of dirt work, and your choice of sod installation or hydro seeding.
Save your time. Let us maintain your lawn.
---
We pride ourselves as the best mowing service around town to our residential and commercial accounts, and strive to keep your lawn looking great! At Watsons Landscaping in Troy MI we are devoted to keeping your lawn in tip-top shape. If your lawn is already in good shape, we can keep it that way for you with proper maintenance. If it needs a little work don't fear, our trained professionals know the proper way to re-seed and restore your lawn to a gorgeous state. And once your yard looks great again, we do everything in our power make sure it stays that way!
Don't get your hands dirty; let us at Watsons Landscaping take care of it for you! Watsons Landscaping in Troy Michigan offers a variety of services to help you accomplish your dream lawn. We provide weekly lawn maintenance for our customers including trimming and edging. Plus, we take care of all the cleanup leaving you worry free and your lawn looking beautiful!
Today, most lawn soil does not contain enough nutrients for healthy growth. Without proper lawn care fertilizer, turf grasses may be less vigorous, colorful and may not grow as well. Using the correct lawn care fertilizer and herbicide could prove essential. That's why employing Watson's Landscaping services can save you a headache along with a lot of money in the long run. Therefore, we not only just fertilize, but we handle your lawn with the best fertilizing lawn care technique and knowledge to ensure the most effective results.
Let Watson's Landscaping eliminate all your pesky weeds from flower beds, mulch beds, lawns, and more. We do it all! We are available to weed and fertilize weekly or bi-weekly depending on the needs of your lawn or beds.
Save your back. Stay safe.
---
When heavy snow and ice hits in Troy Michigan, you want to be assured your parking lots and sidewalks are safe for friends, family, employees or customers at your business or home. At Watson's Landscaping, we stay informed and ahead of the weather to make sure your lots and sidewalks are clear when you need them. So why break your back this winter in the blistering cold when Watson's Landscaping has all the right tools for the job! We have a plethora of services for all your winter needs. In need of a road plowed? We can take care of it for you. Along with snow plowing we can provide you or your business with the following; snow blowing and snow shoveling, salting, and other anti-ice services!
Do you hate putting up holiday decorations? We know decorating is never the best part of the holiday season, so why stress out about it when we love setting up your outdoor holiday decorations and lights! Don't worry, we are available to take them down as well! Give us a call and let us take care of your outdoor decorations while you spend your holidays like intended, relaxing.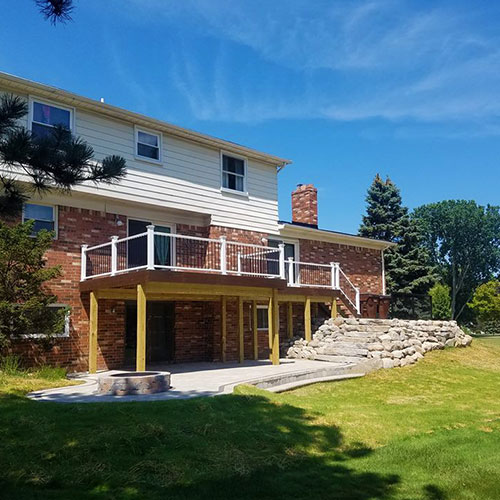 Are you tired of spending hours mowing your lawn every weekend?
Take back your free time by having us take care of your property!
Are you tired of spending hours mowing your lawn every weekend?

Take back your free time by having us take care of your property!
Service Areas

Landscaping Troy MI

Landscaping Rochester MI

Landscaping Washington Township MI

Landscaping Oxford MI